Planning Framework
Since 2015, I've been working on developing a learn research planning framework that can be easily integrated into agile development process. The goal of the framework is to help prioritize research efforts in order to validate assumptions and inspire new directions.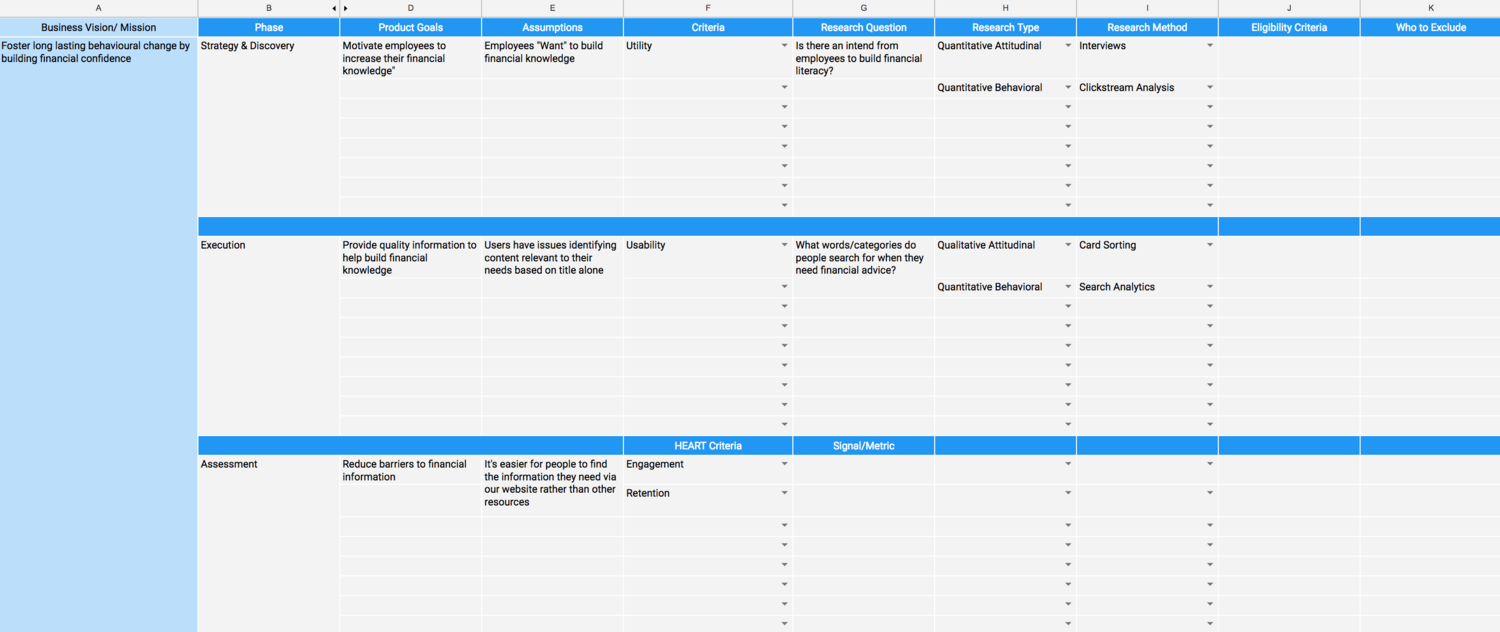 Planning & Priorotizing Research Methods
The key to lean research is asking just enough questions to build an MVP and just enough questions to validate an MVP. Below are the steps I take:
Step 1: Frame the vision & mission of the business or product ideally in a kick-off workshop with stakeholders.
Step 2: Assign the product development phase in order to set the goal for the research activities. This will help narrow down research methods.
Step 3: Identify business or product objectives in a kick-off workshop with stakeholders.
Step 4: Review the existing data and design documents and identify any assumptions made as well as the type of assumption (utility, desirability or usability)
Step 5: Based on the assumptions, identify research questions.
Step 6: Identify what methodology quantitative or qualitative, behavioural or attitudinal is appropriate for answering the question asked. Is this a "what people do" or a "what people say" question? Is it "why and how" or "how many and how much"?
Step 7: Assign a research method and prioritize questions based on how they map back to the product vision.
Usability testing for a healthcare app
As a UX Researcher & Designer at Design Cofounders, I worked on conducting a usability study for a healthcare app. I planned the process, recruited participants, conducted the tests and analyzed results to help inform further design and development efforts.
Customer interviews and testing for an automotive manufacturer
As a UX Architect with Nurun Publicis, I was responsible for leading the discovery activities for the redesign of a digital tool for an automotive manufacturer.